Arizona health insurance

short term health insurance in Arizona
COMPARISON OF ARIZONA SHORT TERM PLANS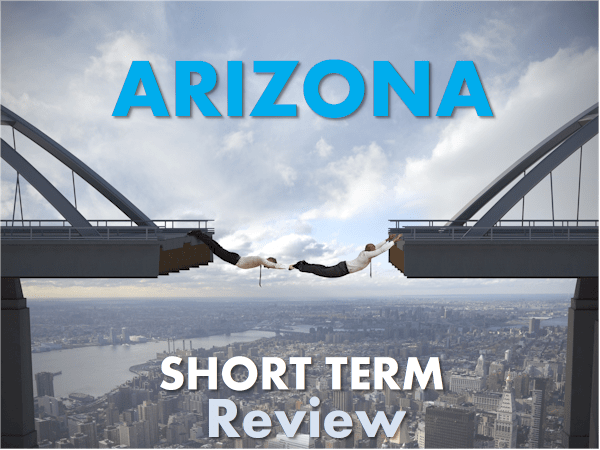 There are three short term carriers available in Arizona.
These three companies are national insurance company and all have established track records.
United Health One Short Term in Arizona
United Health One (writing its short term coverage under Golden Rule name) is arguably the largest insurance carrier in the country.
Currently you can purchase their short term products in Arizona for up to a maximum of 90 days.
At the end of 90 days, you have to reapply again. (This may change for 2019 under new regulations that the Trump administration has proposed).
United has 143 variations of plans in all, with multiple deductibles, out-of-pocket maximums and copay amounts.
The lower priced group of plans are designated Value,Copay Value and Plus. Then there are the more expensive Value Select, Plus Select, Cop Select (with copays for doctor visits you can use before you have to meet the deductible) and Plus Elite.
Deductibles range from a low of $1000 all the way up to $12,500. The lower the deductible, the higher the monthly premium. We recommend looking at either $2500 or $5000 as realistic deductibles that most people could meet if they had to.
The deductible for the less expensive plans is a "per cause" type, meaning the deductible and out-of-pocket maximum are applied for each illness or injury.
You have the option for the Value and Plus plans of changing the deductible type from per cause to per term; in other words, for the amount of time the plan covers (not available for the Copay Value plan).
United designates some of its policies "A" that appears after the policy names. These "A" policy have a larger maximum lifetime payout, $2 million as opposed to $250,000. There's only a few dollars difference in price, and we would recommend getting the extra coverage if you go with United.
The co-insurance (the percentage of covered expenses you pay after deductible) is either 40 percent for the Value or Copay plans, or 20 percent for the Plus plans.
For doctor visits, it's either coinsurance after the deductible has been paid, or a $50 copay for the Copay Value plan.
Emergency room is a $250 copay, subject to the deductible and coinsurance for all three plans. Hospital coverage is the coinsurance amount after the deductible has been met.
For the Value and Copay Value plans, there's a discount card only that can help save an average of 20-25% on your Rx drugs, according to United.
For the Plus and Elite plans, there's a Preferred Price card and coinsurance after the deductible.
The Plus Elite has no coinsurance or out of pocket maximum.
The Plus Select has a Preferred Price Card and coinsurance. Once your plan deductible is met, that you pay only your coinsurance.
The deductible type is per term (one deductible for selected length of coverage).
The coinsurance is either $5000 or $10K for the Value Select; $2K, $5K or $10K for the Plus Select; $5K for the Copay Select or zero deductible for the Elite.
So there's a lot of options and choices for the United plans. We'll be glad to help you decide which one works best for you.
You can quote United Health One Short Term in Arizona here:
---
NATIONAL GENERAL Short Term Health in Arizona
National General offers short term plans with deductibles from $1000 to $25,000. National General does not cover preconditions, although it does have plans where you can get accepted even with a precondition, although the precondition itself is not eligible for coverage once the coverage is in effect.
National General allows to you automatically roll over your coverage at the end of 90 days, so theoretically you could get a year's worth of coverage simply by utilizing this feature. However, if you have had any medical activity during this period, your deduction and copays start all over again.
National General using Aetna's nationwide Open Choice PPO Network, so there should be no difficulty in finding a provider.
The National General plans tend to be more expensive than the United Health One plans, but they have that guaranteed issue feature (preconditions are not declinable but not covered either)that United currently doesn't.
You can quote National General in Arizona here:
---
IHC Short Term health in Arizona
IHC has a plan called Connect Plus with a limited benefit for pre-existing conditions. It provides a benefit of up to $25,000 for eligible pre-existing healthcare expenses. This coverage is per person, per policy. After the $25,000 maximum has been reached, expenses due to pre-existing conditions are not covered.
IHC covers two deductibles, $5000 or $10,000. There is an office visit copay of $50 and applies to the first covered office visit during the policy period.
Co-insurance is either 30 percent with a maximum out-of-pocket of $6000, or 50% with a maximum out of pocket of $10,000.
The maximum benefit to be paid out is $2 million.
Again, if you have any questions about short term coverage, please contact us. We'll be glad to answer them.
You can quote IHC Short Term in Arizona here:
You can run your Arizona Short Term Health Quote here to view rates and plans side by side from the major carriers...Free.
Again, there is absolutely no cost to you for our services. Call 866-344-8061 Today!