Arizona health insurance

short term health insurance in Arizona
Best Arizona short term health insurance options in 2019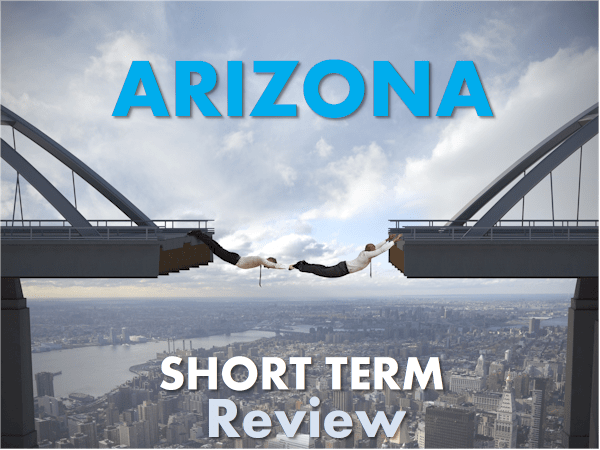 Short term is another type of insurance that is growing in popularity in the changing insurance landscape.
Plans are offered in Arizona as they are in every other state, although coverage can vary widely from state to state depending on the rules.
So when should you consider short term insurance?
When you are between jobs
When you have a new job, but the group health insurance hasnít kicked in yet (this can be as long as a six month waiting period).
When long term Affordable Care Act (Obamacare) insurance isnít available because youíre not in an open enrollment period, or you donít qualify for a special enrollment period (SEP).
(A special enrollment period consists of things like losing group insurance, moving out of your coverage area, adding or losing a dependent, getting a divorce, having the insurance cancel your coverage for other than non-payment, among other reasons. If you think you might be eligible for an SEP, please contact us).
When the cost of an ACA plan is so high (particularly if you donít qualify for a tax credit/subsidy) that the choice boils down to either getting short term coverage or going naked without any insurance at all.
Like everything else, short term has its advantages and disadvantages.
Among the advantages are:
Relatively lower premiums when compared to ACA
Quick turn around time for approval
Ability to set coverage for a specific time period, as needed
Some disadvantages include:
Subject to medical underwriting. Depending on your health history, you might get declined.
Is only good for a specific period of time. Generally this is 90 days, and then you need to reapply. (One company, National General, has found a way to get around that, and you can roll over your current coverage at the end of 90 days to get a yearís worth of coverage. More on that later).
Doesnít cover preconditions. In fact, some preconditions can get you declined.
More limited benefits compared to the ACA plans. It doesnít cover things like maternity coverage and sometimes has a lesser drug benefit, such as a discount card.
Is subject to the penalty, which has been cancelled by Congress but will still be in effect for 2019.
Only covers specific period. When that period ends, youíll have to submit another application, and thereís no guaranteed youíll be approved if thereís changes in your health status.
You can run your Arizona short term health quote here:
---
Changes To Arizona Short Term Health Insurance In 2019
Currently short term coverage is good for a maximum of 90 days.
At the end of 90 days, youíd have to apply again.
This may change in 2019 under new rules being considered by the federal government.
You could get short term coverage for up to a year if those rules go through.
---
Arizona Carriers Offering Short Term Health Insurance
We deal with three national carriers in the short term real:
United Healthcare
National General
IHC (affiliated with Blue Cross Blue Shield of Arizona).
There are some major differences among the three carriers.
United Healthcare offers a large choice of plans with the deductibles that range from $1000 all the way up to up to $25,000. It also has plans with ďlifetime payout maximumsĒ for either $500,000 or $1 million (we recommend going with the $1 million payouts since there is very little difference in cost).
The higher paying plans are designated with an A.
National General has plans that are guaranteed issue.
The guaranteed issue starts from the effective date and does not cover preconditions.
If anything arises that is linked with a precondition, it will not cover that either.
However, nothing in your history will prevent you from being covered, unlike the coverage other carriers; it just wonít be covered under the plan.
Also, at the end of the three month period, the coverage rolls over and you donít have to apply again.
However, if thereís been any medical activity in the previous period, the deductibles and copays start all over again.
Typically the National General premiums are higher compared to United Healthcare.
IHC is partnered with Blue Cross Blue Shield and offer short term health plans in Arizona.
You can quote the three here:
IHC (affiliated with Blue Cross Blue Shield of Arizona).
Check out the comparison of short term health plans in Arizona here. Thanks!
---
The Penalty with Short Term Health Plans in Arizona
All short term plans are currently subject to the tax penalty in 2018 for plans that donít meet the minimum benefits mandated by ACA.
The tax penalty is currently $695 per individual or 2.5 percent of your income, whichever is greater.
Thatís the bad news.
The good news is that Congress is doing away with the penalty beginning in 2019.
---
Arizona Short Term versus Obamacare Plans
The Affordable Care Act plans have certain mandated requirements that the short term plans, in Arizona and other states, donít have to offer.
Among the most significant of these is guaranteed issue.
This is a lynchpin feature of the ACA.
Anyone can get coverage through ACA no matter what their medical condition.
With most short term plans, there is no such thing.
When you apply, you have to go through medical underwriting, which means you have to answer questions about your medical history.
Certain illnesses can keep you from getting underwritten.
Other mandatory requirements that short term plans donít have include maternity coverage; no cap on how much the plan will play over your lifetime; and a built-in prescription benefit in which drugs are categorized by tiers based on a formulary, among others.
What short term plans have going for them is comparatively lower pricing; effective dates in a matter of days (with the ACA plans it can be weeks or even a month depending on when you apply); and the ease of application.
---
How Do I Apply for Arizona Short Term Coverage?
You can apply through the quote link here:
If you have any difficulty, please contact us. Weíll be glad to help.
---
Is Arizona Short Term Health Coverage Right For Me?
You should generally think of short term coverage as bridge insurance, to get you from a point where you lost prior coverage (job change, for example) to the point where you will get permanent insurance.
Your insurance of choice should be long term coverage, but if youíre outside of open enrollment, and donít qualify for a special enrollment period, or if thereís absolutely no way that you can afford an ACA plan and would have to go without insurance altogether, then short term is the way to go.
That is a decision only you can make, but weíll be glad to give you whatever input we can.
Short term is not for everybody, but it may fill a specific need you haveófor the short term.
You can run your Arizona Short Term Health Quote here to view rates and plans side by side from the major carriers...Free.
Again, there is absolutely no cost to you for our services. Call 866-344-8061 Today!